Students Tackle Challenges & Develop New Leadership Skills
Although not on the football field, the fitness and wellness program assistants are still tackling issues head on.
This group of seven students is in a unique position on campus as they now find themselves running the fitness & wellness program within the Department of Recreational Sports. Due to their supervisor being out for maternity leave, these students now oversee, coordinate, communicate and plan for the entire program.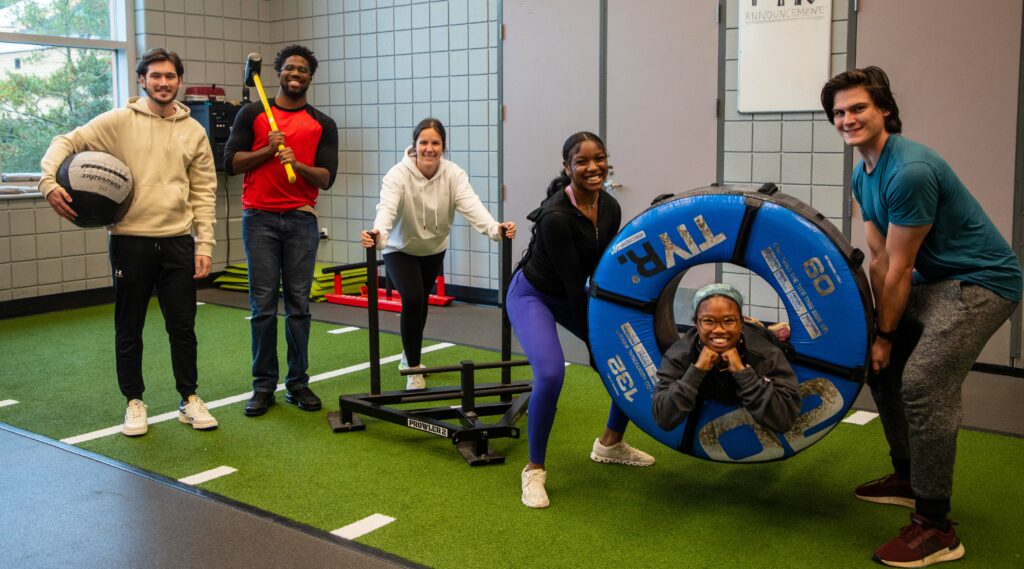 For perspective, this program facilitates over 15,000 fitness class interactions each year plus 2,500 personal training sessions and dozens of special events and outreaches across campus.
Although the numbers and challenges may seem daunting, these talented students have stepped up to run the day-to-day operations as they build awareness of what it takes to run a program of this size, all while developing their own personal leadership style.
LESSONS LEARNED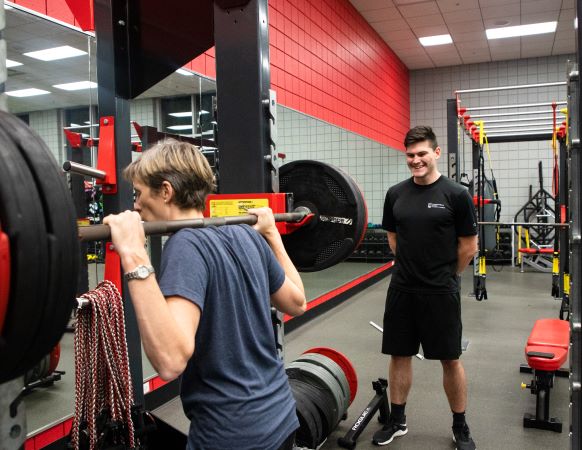 When asked, the program assistants mentioned the importance of time management as they balance class loads, maintaining their own personal training clients' needs and the added responsibilities of coordinating and communicating with the almost 100 program employees.
Alex Wilson, a fourth-year exercise and sport science major, stated, "the repetition of meeting with [personal training] clients and mentoring younger trainers" has taught him, "to be a much better communicator" and has increased his interpersonal skills.
As an aspiring professional in the health and wellness field, Wilson also acknowledges that through this experience he has gained greater insight into different fitness and teaching techniques which will undoubtedly benefit him in his future career.
Associate Director for Programs Lance Haynie, who has been working with the program assistants and helping with some of the business needs knows the value of the lessons they are learning. "It is my belief that skills are not truly developed until they are put to the test. This semester has brought this type of rigorous testing to the program assistants. It is a joy to see them not only meet the challenge head on, but also excel!"
CHALLENGES FACED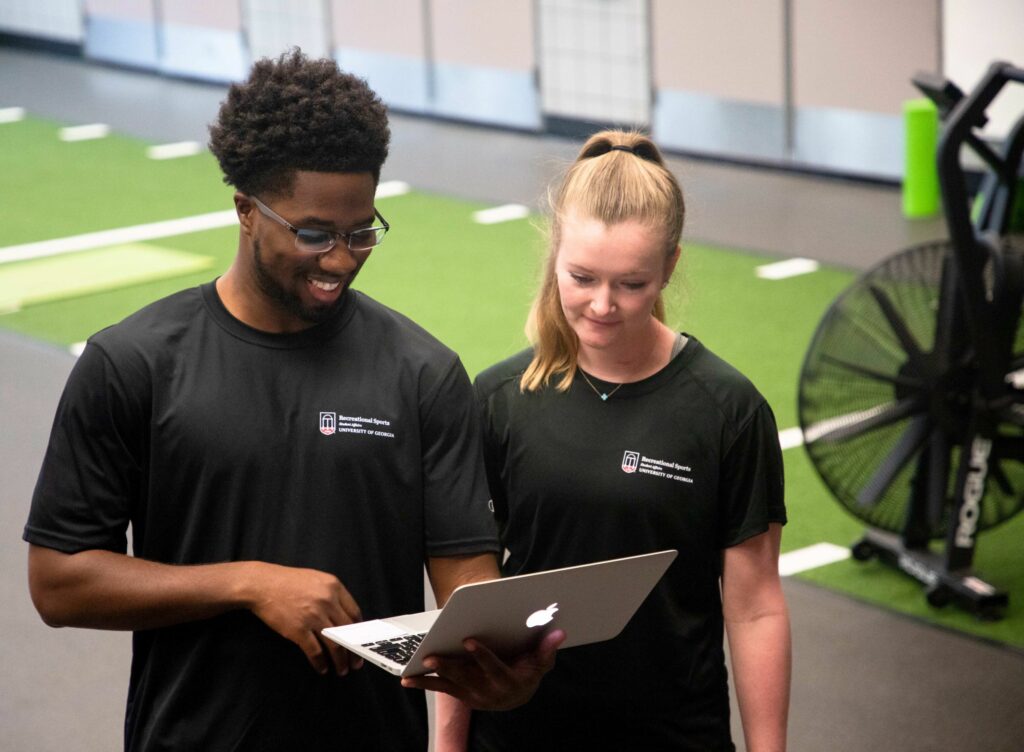 This select group of university students have certainly developed new skills, but as is so often the case, these new skills have been earned through hard work and determination.
According to Mackenzie Teague, a third-year biology major, "…the most challenging part is just not knowing what the day holds."
Abby Chapman, a third-year journalism major, shared, "There is a never-ending line of communication… and some sort of obstacle… pretty much occurs every day." She added, "It can be overwhelming."
Although running the fitness & wellness program continues to present the students with challenges, they see the value in what they are able to learn through the experience.
Devin Logan, a fourth-year dietetics major, explained that he has faced "big challenges", but he understands that "…challenges can be turned into positives to help us learn."
The ability to manage challenges and see the benefit of what they have learned is a testament to the determination and intelligence inherent in the Bulldog spirit.
THE HEART OF THE MATTER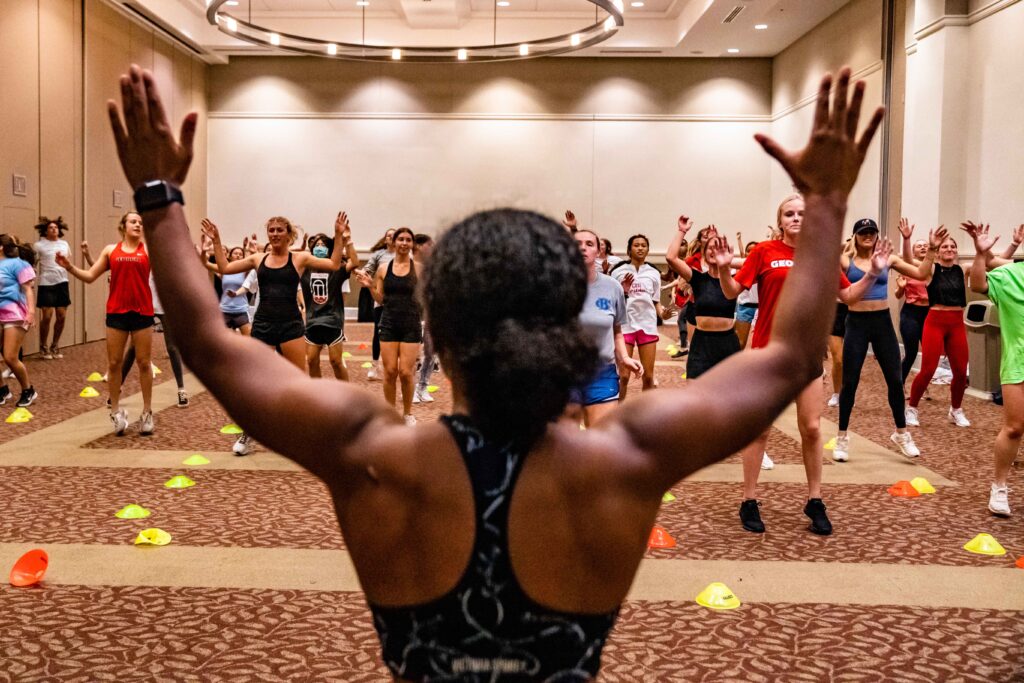 Yes, there are challenges involved with any endeavor, and yes, the students know they are developing leadership skills, but why do they do it?
According to the students, there is one common theme – making a difference in the lives of those around them.
Chapman stated, "I really enjoy teaching and being part of a program that helps people challenge themselves… Our fitness classes are a small escape from school, work or stress in general."
Wilson shared a similar thought. "Seeing the positive impact on the people that we train is very satisfying."
Taking the sentiment one step further, Logan explained that he not only cares about the participants with which he works, but he also cares about his fellow staff members. "Whether it's seeing clients hit their goals, encouraging patrons in my group fitness class, or seeing employees take a new step by getting certified in something new, seeing the progression of everyone around me is the best thing I can ask for."
"Without these incredible students, our fitness program would not be where it is today." said Director for Recreational Sports Keith Wenrich.
Although these students have been with the fitness & wellness program for several years, what they have accomplished in recent months shows that no boundary is too big for them.
"Life is all about people and our impact on them," said Logan. "Seeing others enjoy their work and the great environment we provide is what it's all about."
By: Heather Arnold